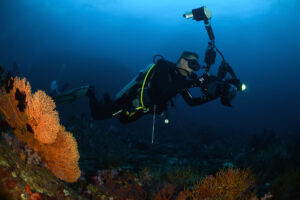 Kim Briers hails from Belgium and specializes in landscape and underwater photography. Now based in Phuket, Thailand, he spent the last two decades capturing the awe-inspiring essence of our planet, both above and below the water's surface.
Kim has worn many hats throughout the world as a divemaster, diving instructor, underwater photography teacher, marine biology researcher and dive center manager. He particularly treasures his work alongside marine biologists serving biodiversity and climate research organizations on uninhabited islands in Central America.
He spent several years traversing the Red Sea of Egypt and Jordan and later to Eastern Africa where he devoted his efforts toward educational marine conservation projects in Mozambique, Kenya and Zanzibar. Afterwards, Kim moved to Asia and has called Phuket, Thailand home for over ten years. Lately, you can find Kim beneath the surface diving and photographing images of dazzling water creatures while residing on liveaboards to the Similan Islands and in the Deep South of Thailand.
"Often it's all about patience…You're in a beautiful place, excited to make photos but the weather conditions just stay bad for days that you almost give up and feel disappointed … but all of a sudden there's that mind blowing moment of light, only for less then a minute, but you captured it and you know straight away you were in that magical moment, a moment never to forget. Also in underwater photography it's all about patience and observing the animal and it's environment, the kick of having eye contact with an only 3mm sized hairy shrimp… Photography is a beautiful never ending addiction."